A landscaping company that caters to all your landscaping & arboriculture needs. In and around Spalding Lincolnshire.
About RW Landscaping Ltd: Your Expert Tree Surgery and Grounds Maintenance Partner
Our Founder's Vision
RW Landscaping Ltd, founded by Mr. Rhys Woods in 2012, is your trusted partner for exceptional tree surgery and grounds maintenance services in Lincolnshire and Cambridgeshire. At just 19 years old, Rhys embarked on his entrepreneurial journey, driven by a passion for landscaping and a vision to provide top-quality services to the community.
A Journey of Continuous Improvement
The journey of RW Landscaping Ltd has been characterised by remarkable growth, year after year. What sets us apart is not just our expansion in services but also our unwavering commitment to continuous improvement.
Sustainability and Environmental Stewardship
At RW Landscaping Ltd, we are deeply committed to sustainability and environmental responsibility. Our vision is to create the most sustainable and eco-friendly business in our industry, reducing our carbon footprint while contributing positively to our natural surroundings.
Planting New Trees for a Greener Tomorrow
Each year, we plant new trees as a symbol of our commitment to the environment. These trees not only beautify our landscapes but also play a crucial role in mitigating climate change, providing habitat for wildlife, and improving air quality.
Transitioning to Eco-Friendly Machinery
In our effort to reduce emissions and minimise our impact on the environment, we are actively transitioning to battery-powered handheld machinery wherever possible. This eco-conscious choice not only reduces noise pollution but also helps preserve the pristine beauty of the outdoor spaces we serve.
Safety First and Foremost
At RW Landscaping Ltd, the safety of our team, your property, and the public is our top priority. We take health and safety extremely seriously, expanding our knowledge base each year to stay current with regulations and best practices.
Your Dedicated Health and Safety Officer
To ensure the highest level of safety, we have a dedicated Health and Safety Officer who oversees our operations. Their role is to ensure that our staff rigorously adhere to all regulations and safe work practices, every day.
Committed to Compliance
Our commitment to compliance with health and safety regulations is unwavering. We prioritise safe work practices, provide ongoing training, and conduct regular safety audits to maintain the highest standards.
Keeping You Safe
Above all, our dedication to health and safety is about keeping our clients and members of the public safe. When you choose RW Landscaping Ltd, you can have peace of mind knowing that safety is at the forefront of every project we undertake.
Specialised Services in Lincolnshire and Cambridgeshire
We specialise in a comprehensive range of services to meet your outdoor needs in Lincolnshire and Cambridgeshire:
Tree Surgery: Our certified arborists provide professional tree care solutions, including pruning, removal, and stump grinding, ensuring the health and safety of your trees.

Grounds Maintenance: We excel in commercial grounds maintenance, maintaining the pristine appearance of your outdoor spaces year-round.

Site Clearances: Our team prepares spaces for new projects with efficiency and precision.

Stump Grinding: Our stump grinding services leave your landscape free of unsightly remnants, promoting safety and aesthetics.

Snow Clearing and Gritting: Count on us for prompt and effective snow clearing and gritting services to keep your property safe and accessible during winter.
Our Commitment to Excellence
Through each stage of our growth, our commitment to excellence has remained steadfast. We've continually refined our services, expanded our knowledge, and invested in the latest equipment to ensure that we provide the highest quality solutions to our valued clients.
Our Vision for the Future
RW Landscaping Ltd envisions a future where our services continue to enhance the beauty and functionality of outdoor spaces while leaving a positive environmental footprint. We aspire to be leaders in our industry, known for our dedication to safety, sustainability, and customer satisfaction.
Contact Us for Expert Tree Surgery and Grounds Maintenance
Thank you for considering RW Landscaping Ltd as your trusted partner for tree surgery and grounds maintenance in Lincolnshire and Cambridgeshire. If you have any questions, require professional services, or wish to discuss your specific outdoor needs, please don't hesitate to reach out to us. Our experienced team is here to assist you in achieving your goals for your outdoor spaces.
Join us in creating landscapes that are not only beautiful but also safe, sustainable, and environmentally friendly. Together, let's shape a brighter and more vibrant future for outdoor environments in Lincolnshire and Cambridgeshire.
You can also check out our blog post about Winter Grounds maintenance services Lincolnshire.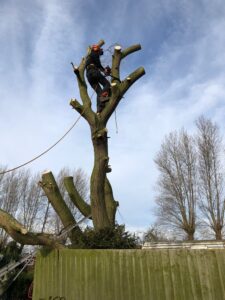 We Strive To Be The Number One Choice For Commercial Grounds Maintenance.
At RW Landscaping Ltd, we have a very strong portfolio of commercial scheduled maintenance. We are the number one choice when it comes to quality and assurance.   
If its a clean, professional, organised and efficient grounds maintenance company you are looking for. You have came to the right place.  
A Company With Quality In Mind.
We have built our reputation on quality. 
From the service we provide to the machinery we use. 
Please take the time to see the services we have to offer you.